Latest Issue
---
Holiday Recipes from Our Global Staff!
Wet Markets Still a Threat in China
Campaigning for Hens and Chickens
Together, We Can End Consumer Deception
Past issues
---
Joaquin Phoenix – His Surprise Protest with Animal Equality
Calling for a Ban on Wet Market for Animals and Human Health
Initiatives to End Underground Slaughterhouses in Mexico
How to Close Out Summer Compassionately
Rooney Mara – Speaking Out Against Factory Farms
The Silent Suffering of Fish and Why We Are Making Noise
The Plant-Based Revolution Takes the World by Storm
Deforestation of the Amazon – Animal Ag Destroying the World's Largest Forest
Mayim Bialik – Compassionate Living Isn't Rocket Science
We Did It! – Cruelty to farmed animals now a crime in Jalisco
Legal Action – Suing Pilgrim's Pride
Animal Allies – A growing force for animals
---
Moby – Being Vegan Gave Me Clarity and Purpose
Prop 12 Passes! – Historic Win for Farmed Animals in California
Deadly Deep – The Silent Suffering of Fish
Animal Protectors – Advocating for Animals Worldwide
---
Kate Mara – Striking a Pose for Animal Equality
Shedding Light – Investigating factory farms worldwide
#McChickenCruelty – Campaigning against McDonald's treatment of chickens
Plant-based Future – Inspiring India with LoveVeg
---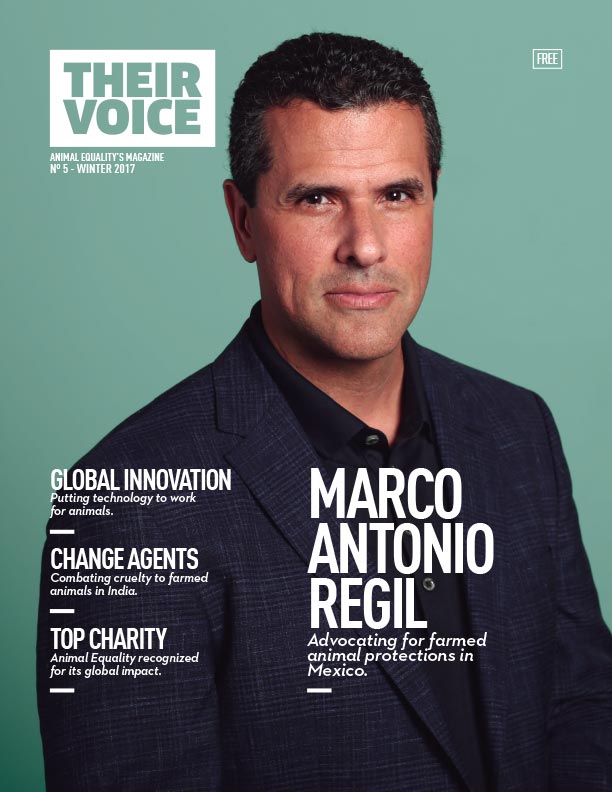 Their Voice N 5
Marco Antonio Regil – Advocating for farmed animal protections in Mexico
Global innovation – Putting technology to work for animals
Change agents – Combating cruelty to farmed animals in India
Top Charity – Animal Equality recognized for its global impact
---
Evanna Lynch – "I didn't anticipate veganism loving me back…"
Historic initiative – Making cruelty to farmed animals a crime in Mexico
Ending cages – Breakthroughs in Brazil
LoveVeg – Celebs, lifestyle, recipes
---
Life in a cage – Animal Equality's first investigation in Mexico
iAnimal – Virtual reality continues to shock thousands
Ari Nessel – Bearing witness
---
iAnimal is our innovative virtual reality project. With it, we take the viewer into farms and slaughterhouses. With you, we are looking at the future. A future in which there is no place for cruel factory farms.
---
"Save a Lamb" – The campaign that is saving thousands of lambs in Italy
360 – An immersive experience you will never forget
Keegan Kuhn – Co-director of Cowspiracy: a filmmaker trying to save the world
Animal Equality has been declared one of the most efficient organizations in the world!